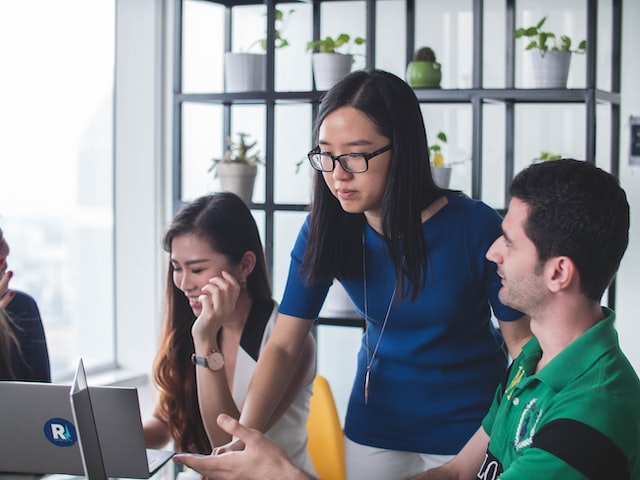 7 Strategic Skills Every HR Manager Should Have to Lead & Inspire
September 20, 2022
The workplace has seen major changes since the age of information technology started. This change was accelerated further by external forces in the economic, social, and global health events. Many new work norms have emerged such as remote working, as well as behaviours and trends brought about by new generations of employees. Thus, as time and workplace behaviour change, naturally, so do leadership and management. 
Post-pandemic HR managers play a key role in the organisation. Their strategic and critical skills can help empower the workforce and find a balance between the company's goals and the employees' demands. Hence why there is a need for managers to acquire specific skills and upskill themselves to overview business operations in the new era.
What would be the core competencies that today's HR managers need to lead effectively? Here are a few:
1. Decision-Making & Problem-Solving 
Every day, HR managers make decisions that are crucial to the growth and performance of the organisation. As managers, they need to provide HR expertise, advice, hands-on support and solutions to management teams, head of departments and employees. For HR involved in recruitment, they have to solve problems relating to hiring, training and retaining employees. 
Some managers would also need to solve conflicts in the workplace, lead conversations on termination or retrenchment, and many more. Therefore, skills such as critical thinking, impartial judgement and decisive actions are some of the core skills every HR manager should master. 
2. Depth of Legal Knowledge 
HR managers need to have a good understanding of law, particularly employment laws of their country. In order to make a sound decision, they need a good grasp of legal knowledge. In Malaysia for example, one of the guiding statutes for employment law is the Employment Act of 1955. Starting January 1st, 2023, the Employment (Amendment) Act 2022 will come into force, bringing with it some significant revisions on workplace discrimination and wages. 
Managers would need a thorough understanding of this new amendment, and communicate effectively to their employees and reporting director. This will thus ensure that the organisation stays in compliance with the current employment legislation. 
Read more: 7 Key Points on the New Amendments to the Employment Act (1955) Malaysia
 3. Managing Compensation and Benefits (ComBen) 
Typically, in smaller businesses, there are one or two human resources specialists who are assigned to supervise the salary and benefits program. In larger organisations with a bigger workforce, however, the responsibilities are typically divided up. HR managers are nevertheless responsible for the ComBen plan and structure that is aligned with the company goals. 
Compensation managers need to continuously examine the current market pay rates for each existing and future job description in order to update the senior management on recommended compensation structures. The compensation department also oversees the company's talent management aspect by collaborating with the respective operational divisions on crafting succession plans. 
Meanwhile, HR managers in charge of Benefits are responsible for duties such as liaising with retirement account administrators or negotiating group health coverage rates with insurance carriers. Payroll is, of course, a component of HR's compensation and benefits division, but many businesses elect to contract out this task to a bookkeeper or payroll service provider, especially if the HR team is lean or small and the companies usually prefer more focus is on Learning and Development (L&D) plans. For those who do not, the compensation team often focuses mostly on planning and strategy, with the payroll team concentrating on the administrative part of payroll processing.
Read more: Hidden Risks of In-House Payroll
4. Effective Communication 
HR professionals frequently have to conduct interviews, settle disputes, deliver presentations, and explain corporate policies to staff members. In order to maintain effective communication, HR managers have to be effective listeners. Being a good listener fosters open communication, and trust, and reduces resentment. It enables a manager and leader to evaluate opposing viewpoints and identify useful solutions. 
Other than that, HR managers have to ensure they master the skills in written communications. This includes everyday tasks such as composing emails, reports, and policy, to name a few. Good writing skills can greatly help managers to bring their point across and prevent misunderstandings. Besides that, HR managers would frequently talk to employees about workplace challenges and propose training programmes. Those with strong communication and presenting abilities will be seen as capable and reliable.
5. Digital & Technology Skills 
HR managers need to be able to adjust to new technology as the world becomes more and more digitalised. Tech-savvy HR leaders will have an advantage when managing the aforementioned tasks. For instance, social media platforms assist them in posting job positions online and reaching out to more candidates. Additionally, while recruiting and hiring, Talent Acquisition Software or Application Tracking System (ATS) can greatly facilitate their work. 
Therefore, having strong digital abilities is essential for HR managers. They also need to master how to use the HRIS systems to facilitate the processes in business operations. In short, there are various ranges of responsibilities that HR managers are required to handle which need digital skills. 
6. Data-Driven & Analytical Skills
The use of data analytics to improve decisions is being pushed through all departments, HR included. Thus, a majority of HR leaders find the need to be analytical and data-driven. Understanding important HR KPIs, including hiring, engagement, and retention as well as employee value and performance are a must to be a competent HR manager. 
Being a data-driven and analytical HR leader means being impartial to decision-making, and relying on facts instead of opinions. This ultimately creates a merit-based workplace that retains high performers and an objectively positive environment, all using accurate data. 
7. Continuous Learning & Improvement 
Learning is an ongoing process. Good HR leaders constantly and instinctively see space for improvement in their teams and even themselves. They are open to suggestions, learning curves and new opportunities that can benefit the organisation by up and cross-skilling respectively. 
They also seek to gain an understanding of the advantages of new HR research findings and link them to the current trends in the HR industry, for example, the hybrid working arrangement post-Covid era which is now strongly favoured by the millennials. All of this can help leaders to develop a strong understanding of HR functions, methods, strategies, procedures, and policies.
Conclusion
Modern-day HR managers face unique challenges and opportunities in the workplace. There are skills valuable to HR across industries and regions due to their relevance and demand in today's workforce. Situations, norms and trends are some of the factors to why HR managers should upskill themselves to make them stay competitive in their field. 
Outsource your HR and payroll administrative operations with Ledgen as part of your HR strategy to streamline operations and focus on core value-added matters to the organisation. Get started with an outsourcing team that understands your business. 
Contact Ledgen for HR outsourcing. 
Get in touch and discover how we can help
Got a question or inquiry? Come talk to us today.
Contact Us